hi hi!
it's wednesday.
we made it this far already.
i am SO looking forward to this weekend.
i don't have anything exciting going on this weekend.
i am just looking forward to lots of relaxation and doing a little business stuff.
it's been a busy couple of days and i wasn't sure if i wanted to just share some photos or share a recipe.
if you scroll down a bit, you will see that i picked the photo route.
i've been noshing on all the fats to help those pesky hormones.
i'm not so sure it's helping, but i also know it'll take time.
the belly has been bloated for over a week – no fun.
but the face is a bit better – thinking it's my new oil blend!
make sure to look at these photos on a full stomach or while eating.
they look so good, they'll make your tummy grumble for food!
…
…
notice a trend?
black sesame seeds.
eggs.
veggie noodles.
my tummy loves.
make sure to check out more what i ate wednesday eats over at peas and crayons!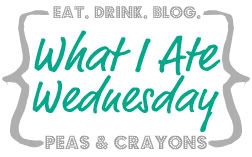 …
- jena.
p.s. what are you eating this wednesday?  have you tried black sesame seeds?!
want more burpees for breakfast?
find me on facebook. instagram. twitter. bloglovin. and pinterest.